Texas Tech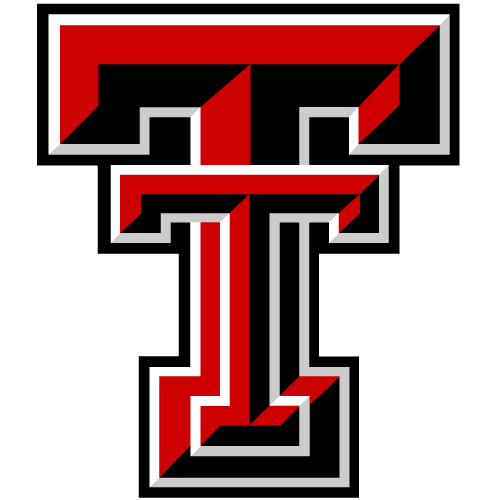 Taylor Quinn - PG
Team: Texas Tech Red Raiders
[ID #85]

Location: Lubbock, TX (Southwest)
Conference: III.1 [Division 1]
President: Bielsa

[since April 28th 2021 | last seen March 20th 2023]
Rating: 250.37 - Overall Position: #62
Fan Mood: 123.62
Alumni Mood: 164.40
Prestige: 198
Team Notes:
• Nov 16 2030: 3-star prospect
Dan Fowler
committed.
• Jun 25 2030:
Louis Kopp
was drafted round #2, pick #11 by Atlanta.
• Jun 25 2030:
Danny Barrett
was drafted round #1, pick #13 by Dallas.
• Mar 10 2030: Made the national tournament field.
• Mar 07 2030: 2-star prospect
Greg Osborn
committed.
• Jan 24 2030: 2-star prospect
Travis Pruett
committed.
• Jan 04 2029: 3-star prospect
Bobby Cunningham
committed.
• Nov 18 2028: 3-star prospect
Mark Truitt
committed.
• Aug 31 2028:
Damien Garnett
was hired as the new assistant coach.
• Aug 31 2028: Assistant coach
Rickey Knott
was let go.
Record:
Wins: 26 Losses: 15 Pct: .634 Conf Wins: 18 Conf Losses: 12 Conf Pct: .600 Conf Rank: 5 Last10: 6-4 Streak: L1
Pts Ave: 76.6 - 70.8 Pts Diff: +5.8 Team Power Index: 148.9
Press Releases:
Mar 28 2026:
Fin de Temporada
-
by Bielsa on June 29th, 2022
Nos comunicamos con la gran comunidad de fanáticos de los Red Raiders para celebrar un final de temporada que nos dejó con sabor amargo por la expectativa que generó, pero no concretó, este gran equipo.
Esto, sin embargo, le sirve de experiencia a un equipo joven que se desarrolló de manera extraordinaria este año y apunta al próximo a superar todo obstáculo lo que se le cruce por delante.
Queremos también destacar al joven plantel de entrenadores que sigue creciendo y alimentando la historia grande de este gran programa.
Sin más que decir mandamos un gran saludo y pedimos se cuiden hasta la próxima que nos podamos ver todos juntos una vez más en nuestra casa común, el gran United Spirit Arena.
Bielsa.
Feb 22 2025:
Last Home Game of the Season
-
by Bielsa on April 24th, 2022
Today we play our last game in front of our crowd, today we say goodbye to our fans and promise to be back with 2 new trophies. The Conference and Division tournaments. This season was amazing for all of our players, staff and the program as a whole, we are going back to D2 but first we will leave our stamp in D3 to hopefully never come back.
Oct 06 2022:
Marquis Smith Retires at Age 67
-
by Bielsa on November 21st, 2021
Es un honor para Texas Tech haber cruzado caminos con uno de los entrenadores más ganadores de la historia. Queremos recordarlo y rememorar aquellos años de victorias y campeonatos en las ligas más altas, este programa está comenzando a levantarse una vez más y es crucial que con nosotros llevemos nuestra historia.
D1 está a la vuelta de la esquina, las camadas de reclutas son cada vez más auspiciosas y estamos entrando en una nueva época dorada de este gran programa que son los Red Raiders.
Agradecemos por este presente pero insistimos en que el futuro será aún mejor. Un saludo grande.
Mar 24 2022:
Texas Tech is a D2 Program
-
by Bielsa on November 15th, 2021
This season comes to an end after losing in the D3 tournament ending the journey as a top 16 team in the division.
It was a great year and the roster gave everything to represent the Red Raiders, we want to give a special mentionm to this senior class: Franklin Smith, Zachary Lester, Dick Youngblood and Lyle Calvin. They have welcomed the new president and supported the transition welcomig the first recruiting classes of Bielsa.
With D2 on the horizon and a great recruiting class coming in the plan is to compete and develop the program with new young coaches aswell as becoming a major actor in the southwest recruiting region.
Dec 02 2021:
Este es ÉL Año. D2 or Nothing.
-
by Bielsa on October 12th, 2021
Con un comienzo de temporada ajetreado, los Red Raiders buscan asentarse y construir regularidad con cada partido de conferencia. El objetivo es ascender, siendo el mejor equipo de la conferencia no hay excusa para dejar pasar la oportunidad.
Al mismo tiempo queremos informar que esta será la última temporada de Alexander Quinn el mando de Texas Tech, en esta su cuarta temporada con el equipo acompañaremos su cruzada a ganar la división. La temporada que viene contaremos con Colby Wood como nuestro próximo Head Coach, su crecimiento como entrenador asistente estos últimos años han impresionado al Presidente Bielsa y es por eso que en vistas a un nuevo en D2 otorgará las riendas a un nuevo y joven entrenador.
En lo que respecta al reclutamiento esta temporada tenemos el agrado de informar que Troy Titus se ha comprometido a seguir su carrera deportiva en nuestra prestigiosa institución. Esperamos contar en breve con el gran apoyo de Greyson Wisniewski al igual que con el de Chet Shaver.
Gracias por leer y nos encontramos, como siempre, en el United Spirit Arena.