Tennessee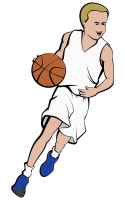 Casey McAndrews - SG
Team: Tennessee Volunteers
[ID #64]

Location: Knoxville, TN (South)
Conference: I.1 [Division 1]
President: TPS2.0

[since February 05th 2018 | last seen January 28th 2022]
Rank: #1
Rating: 542.64 - Overall Position: #1
Fan Mood: 117.92
Alumni Mood: 206.40
Prestige: 156
Team Notes:
• Aug 31 2023:
Wesley Rueter
was hired as the new assistant coach.
• Aug 31 2023: Assistant coach
Zack Kelly
was let go.
• Jun 27 2023:
Jeff Heard
was signed as a free agent by Golden State.
• Jan 28 2023: 4-star prospect
Eric Harden
committed.
• Dec 31 2022: 2-star prospect
Brant Knepper
committed.
• Dec 03 2022: 4-star prospect
Milt Campbell
committed.
• Jun 28 2022:
Eric Cunningham
was drafted round #1, pick #21 by Seattle.
• Mar 13 2022: Made the national tournament field.
• Jan 06 2022: 2-star prospect
Ron Free
committed.
• Dec 11 2021: 3-star prospect
Alex Garner
committed.
Record:
Wins: 9 Losses: 0 Pct: 1.000 Conf Wins: 0 Conf Losses: 0 Conf Pct: .000 Conf Rank: 1 Last10: 9-0 Streak: W9
Pts Ave: 97.7 - 67.9 Pts Diff: +29.8 Team Power Index: 148.1
Press Releases:
Oct 19 2011:
Former center set to be inducted into the Tennessee Hall of Fame
-
by TPS2.0 on March 19th, 2020
The University of Tennessee has announced that they will induct former center
Jeremy Knapp
into the University of Tennessee Hall of Fame. Knapp averaged 15.1 ppg, 7.6 reg, and 1.2 bpg during his four year career at Tennessee. The former three star also was the Freshman of the Year in 2003 and was an All-Conference selection in 2005 and 2006. Knapp led the Vols to two tournament appearances including an Elite 8 run in the division two tournament in 2004. The Mississippi native was drafted with the second pick in the second round in 2006 by Memphis. Tennessee will officially retire Knapp's jersey number, 54, on January 14th against the University of Mississippi.