DePaul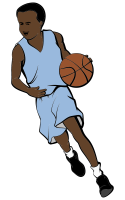 Ralph Mathewson - SF
Team: DePaul Blue Demons
[ID #32]

Location: Chicago, IL (Central)
Conference: VI.18 [Division 3]
President: therelabeef

[since April 03rd 2022 | last seen March 29th 2023]
Rating: 93.01 - Overall Position: #391
Fan Mood: 146.31
Alumni Mood: 140.60
Prestige: 108
Team Notes:
• Dec 05 2030: 3-star prospect
Edwin Gray
committed.
• Oct 12 2030:
Billy Bob Dobbs
was hired as the new assistant coach.
• Oct 12 2030: Assistant coach
Jeff Sexton
was let go.
• Oct 12 2030:
Tyrone Anderson
was appointed as the new head coach.
• Oct 12 2030:
Steve Cousins
was fired as head coach.
• Mar 02 2030: 3-star prospect
Braydon Reed
committed.
• Feb 09 2030: 3-star prospect
Albert Legg
committed.
• Nov 29 2029: 4-star prospect
Barry Hansen
committed.
• Nov 17 2029: 3-star prospect
Ralph Mathewson
committed.
• Oct 04 2029:
Curt Lombardo
was hired as the new assistant coach.
Record:
Wins: 33 Losses: 9 Pct: .786 Conf Wins: 23 Conf Losses: 7 Conf Pct: .767 Conf Rank: 3 Last10: 9-1 Streak: W7
Pts Ave: 94.0 - 77.9 Pts Diff: +16.2 Team Power Index: 144.2
Press Releases:
Feb 20 2031:
prayers
-
by therelabeef on March 25th, 2023
The Blue Demons send out their prayers to the Clarksburg and MCLA teams stationed out in Massachusetts. A cow milk flood has reportedly overtaken the city and brought down the beloved 7-11. The Demons are grateful to still have their 7-11 standing proud in downtown Chicago.
The Blue Demons best player, 6´4 Brant Eason is out for 19 days. He is a 165 sophmore who truly inspired our squad. It will be up to our two senior guards, who are both over 155, to control the team throughout these conference playoffs and last few conference games. With promotion looming in the distance, the Blue Demons just have to win 2/3 games to promote. They also have to beat MCLA to secure a spot in D2. Hopefully, Patrick Sorrentino will be healthy for possibly his last loss to the BLue Demons
Nov 28 2030:
Big Dub
-
by therelabeef on March 1st, 2023
Depaul took a big 108-101 W vs Marietta today. Leader in points was sophmore Brant Eason with 21 and 11 boards. Somehow Albert Legg got POTG though with 16 points and 8 board for the blue demons.
Nov 28 2030:
Biggest D3 matchup of the season tommorow!
-
by therelabeef on February 28th, 2023
The Depaul Blue Demons square off against Marrieta College tommorow afternoon. The game will be held at Wintrust Arena, the blue demons court. Marietta is currently ranked number 3 in d3 with a 11-2 record. The Blue Demons are currently ranked number 6 in d3 with an 11-2 record. This may be one of the most hyped Blue Demon games since the Frank Cross playoff era. Look for Blue Demons stud, Albert Legg, to take control of this game early. He is averaging 17 ppg and 15 rebounds.
Oct 30 2030:
number 1 in d3
-
by therelabeef on February 21st, 2023
For the first time evr the demons rank number 1 in any division thanks to their senior captains and new head coach, Tyrone Anderson
Oct 12 2030:
More Details
-
by therelabeef on February 15th, 2023
ESPN NEWS
The new Blue Demons coach is "Coney Island" Anderson. A mastermind on the defense and offensive side of the ball. The reason of the firing of Steve "Kirk" Cousins reads as follows.
Steve was a great man said team president therelabeef
Therelabeef said they were looking for a change and after missing the D3NT with a very talented team he wanted a change.
Now, The Blue Demons look to win their first confernece title and make the NT since the Frank Cross years.
Frank Cross update. Frank has played very well so far and is entering his 4th season. Frank is almost averaging a double double and starts most of his games