Boston College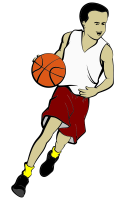 Darren Easter - SF
Team: Boston College Eagles
[ID #110]

Location: Chestnut Hill, MA (New England)
Conference: III.4 [Division 1]
President: blackhand32

[since October 08th 2020 | last seen March 27th 2023]
Rating: 118.03 - Overall Position: #281
Fan Mood: 88.62
Alumni Mood: 109.45
Prestige: 72
Team Notes:
• Feb 06 2031: 3-star prospect
Calvin Haggerty
committed.
• Jan 25 2031: 5-star prospect
Tom Blocker
committed.
• Dec 14 2030: 3-star prospect
Hector Warner
committed.
• Aug 29 2030:
Joe Reich
was hired as the new assistant coach.
• Aug 29 2030: Assistant coach
Jorge Ortiz
leaves to pursue head coaching opportunities.
• Aug 29 2030: Promoted to conference
III.4
.
• Jun 25 2030:
Thomas Gilbert
was drafted round #1, pick #28 by Oklahoma City.
• Mar 10 2030: Made the national tournament field.
• Jan 12 2030: 3-star prospect
Dwight Cooper
committed.
• Dec 29 2029: 3-star prospect
Larry Brown
committed.
Record:
Wins: 14 Losses: 27 Pct: .341 Conf Wins: 8 Conf Losses: 22 Conf Pct: .267 Conf Rank: 15 Last10: 2-8 Streak: L7
Pts Ave: 79.8 - 84.9 Pts Diff: -5.1 Team Power Index: 150.5
Press Releases:
Feb 26 2015:
New Sheriff in town!
-
by blackhand32 on October 9th, 2020
The Boston College Eagles announced the hiring of their new president today. After some middling years in the lower conferences, he'll look to turn the program around. He said, "We're looking to make BC one of the elite basketball teams in divison 1. We'll be examining ways to improve the team in all aspects, from the 15th man to the head coach."